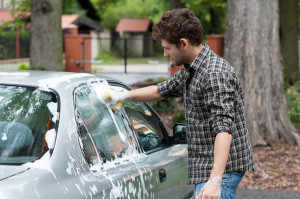 Do you keep up with routine maintenance on your vehicle? Is your vehicle running well? When was the last oil change? How's the air filter? Are the tires properly inflated? When vehicle owners think of maintenance, they tend to focus solely on the mechanics — in other words, the inside parts. If you keep to a regular maintenance schedule, then we say, excellent work! But for many people, that maintenance schedule doesn't include the outside of the vehicle. That can be a mistake, especially if you are thinking about trading your car in. Keeping it clean is nearly as important as keeping it running well.
Yes, a dirty car is unsightly, but it's more than surface level. Putting off washing your car allows deposits of pollen in the summer, salt in the winter, dirt, bird droppings, grime and other corrosive materials like brake dust to build up on your car. In turn, this can cause rust, wear and other damage. If you live in an area that has a lot of road debris or if you drive on dirt or gravel roads frequently, this is especially important. So while your car may be mechanically fine, it will look less than fine and could have exterior damage down the line. Cars that look less than fine tend to sell for less on the resale and trade-in markets, so maybe it's time to think about keeping your car's interior and exterior looking spotless.
Combining a weekly wash with a sanitizing wipe down of your car's interior can help keep the inside of your vehicle looking great and could even help prevent illnesses such as colds, the flu or Covid-19. Wipe down all surfaces you touch regularly, including the steering wheel, door handles and other surfaces. This is important year-round, not just during the winter months!
So, now we've got your attention, right? You can wash your vehicle at home. If that isn't possible, head to the carwash. If you make cleaning your vehicle a habit, it won't be too costly. Just like you make a point to get a haircut every few weeks or months, you should make a point to take care of your car's exterior and interior.
A weekly wash can do wonders. Not only will your car look great, but you will also be taking the necessary steps to protect it in the future and boost resale or trade-in value. Trust us — your car will thank you, and you and your car will look great around town. When it's time to trade in your well-maintained car, connect with us! Visit our website to check our current inventory and even get pre-qualified.