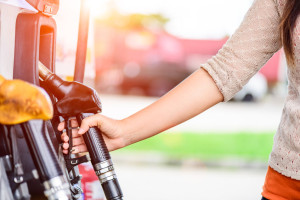 The memes going around on social media about gas prices may be funny, but the reality is anything but laughable. We can't do anything about the gas prices. However, we do have some tips that can help you get the most out of your tank.
Don't overlook regular checkups for your car. Keep an eye on the pressure in your tires. Temperature fluctuations can impact tire pressure. As we are entering summer, it's even more important to check your tire pressure regularly. Properly inflated tires won't wear out as quickly — and they can help you get better gas mileage. This step isn't important only to help improve your gas mileage, though; it's important for the life of your car. Also, should you decide to trade it in, you are more likely to get a better deal for a well-maintained car.
Drive less. This tip sounds the simplest but may actually be the hardest to incorporate, depending on where you live. It's easy to say "drive less." It's not so easy to do it. Obviously, if you have a job, then you have to get there. If your kids play sports, then you have to get there. You do have some options, though. Do you live where you can walk more places or ride a bike? If public transportation isn't available in your area, could you carpool? Sometimes you do just have to drive, so when that happens, try to do as many errands in one trip as possible. Here's a question: how often do you drive when you really don't have to? Instead of eating dinner out, try a new recipe at home. (Like to grill? Check out these recipes. They will feed you all summer.) Instead of going out to the movie, watch one at home. Make it special with these movie night ideas.
Finally, find the cheapest place for gas. Interestingly, there's variation in gas prices. It probably isn't worth adding several miles to the trip just to get to a station where the gas is five cents cheaper. It's worth taking the time to download an app that can help you find the stations with the cheapest gas nearby. If you have a favorite station and you haven't done this already, ask about a rewards program. Another possibility is a gas credit card. You'll want to be very careful with this one, but some brands will offer a discount on gas purchased with their credit card. As with any credit card, you'll want to use it sparingly, keep up with your gas purchases and pay off your balance monthly.
As you set out to enjoy your summer, keep these tips in mind. We do have one other suggestion: consider driving a fuel-efficient car. Check out our website to see what we have to offer. If you find something you like, let us know!