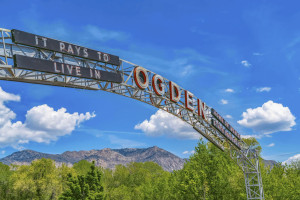 People outside of Ogden might not realize it, but Salt Lake City wasn't the first European settlement in the area that's now called Utah. That honor belongs to the old Fort Buenaventura — or, you know it as, yep, Ogden.
An article originally written for the Utah Office of Tourism, and now found at rootsrelated.com, claims Ogden gets the bragging rights after being settled in 1845 by Miles Goodyear, a fur trader who liked the area he saw near his settlement on the banks of the Weber River.
That was two years before the Mormon prophet Brigham Young leading pioneers across the plains until proclaiming "This is the right place!" when entering the Salt Lake Valley.
"The Mormons, who came to the state in 1847, met Goodyear and purchased (for $1,950) his fort and claim, which are the approximate boundaries of today's Weber County," the article noted. "The Brown family were sent by Brigham Young to begin settling the area in 1848, and the area was shortly known as Brown's Fort. But by 1851, the name was changed to Ogden, named after a fur trader, Peter Skene Ogden, who had lived in the region dating back to 1825."
Here are four other fascinating facts about Ogden:
Ogden was just the third city west of the Missouri River to be incorporated, behind San Francisco and Salt Lake City. It officially became a city in 1851.
Ogden has had railroad ties from its early history. It was a major passenger junction for east-west and north-south railroad traffic. Not coincidentally, Ogden isn't far from Promontory Summit, Utah, location of the Golden Spike, where the First Transcontinental Railroad joined in 1869. Because of all of the railroad traffic in and out of the city, the Chamber of Commerce humorously took on the motto, "You can't get anywhere without coming to Ogden."
In the Navy! E

ven with its historic connection to trains, get this: the United States Navy named two ships after the city — the USS Ogden (PF-39) in 1943 and the USS Ogden (LPD-5) in 1964.

Most of the 2002 Winter Olympics took place south of Ogden in Park City and Salt Lake City, but two popular events took place at sites in the city — curling at The Ice Sheet Curling venue next to Weber State and alpine skiing at the renowned Snowbasin Ski Area.
High five! Ogden earned a big distinction in 2009, when it was ranked No. 5 on Newsmax magazine's "Top 25 Most Uniquely American Cities and Towns" list. The article was written by Peter Greenberg, who later became CBS News travel editor. The rankings were reportedly based on features like quality of schools, proximity to medical care, culture, hospitality and scenery.
Bonus fact: Ogden is home to Rocky Mountain Motor Cars, which thanks you for taking the time to read this blog and looks forward to helping you with your vehicle needs!